Kidney Stones
People who have had kidney stones say there is nothing more painful. Your kidneys are the beginning or top part of your urinary system. The urine is filtered in the kidneys and comes down into your bladder through a ureter, one from each kidney. The urine is held in the urinary bladder until it is emptied, when the urine passes through the urethra and out the urethral opening.
A risk with kidney stones is a kidney infection, which can lead to sepsis. Sometimes incorrectly called blood poisoning, sepsis is the body's often deadly response to infection. Sepsis kills and disables millions and requires early suspicion and rapid treatment for survival.
Sepsis and septic shock can result from an infection anywhere in the body, such as pneumonia, influenza, or urinary tract infections. Worldwide, one-third of people who develop sepsis die. Many who do survive are left with life-changing effects, such as post-traumatic stress disorder (PTSD), chronic pain and fatigue, organ dysfunction (organs don't work properly), and/or amputations.
Urine has no solids, but there are times when the crystals in urine join together to form a stone. Although there are several substances that can form stones, the four most common are made of:
Calcium – common and can recur
Cystine – an amino acid
Struvite – develop as a result of urinary tract infections (UTIs)
Uric acid – a crystalline compound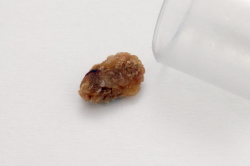 How do you get kidney stones?
While we don't know what causes stones to form, we do know some stones form more easily than others. Dehydration, not consuming enough fluids, can contribute to stones forming, as there may not be enough urine to wash out the microscopic crystals.
Calcium stones, the most common kidney stones, seem to affect more men than women and they are most often in the twenties when it happens.
Risks include:
Too much calcium in the urine caused by disease, such as hyperparathyroidism
Having too much sodium, usually taken in through salt
Although food doesn't cause the stone formation, some people may be told to avoid high calcium foods if they are prone to developing stones.
Cystine stones are caused by a disorder that runs in families and affects both men and women.
Struvite stones are virtually always caused by a urinary tract infection (UTI) as a result of an enzyme secreted by certain types of bacteria. Because more women than men have UTIs, more women than men develop struvite stones. These stones can grow very large and can block the kidney, ureter, or bladder.
Uric acid stones affect more men than women and they can also occur in people who already get calcium stones. People who have high uric acid levels may have or develop gout.
What are the symptoms?
Some people don't feel kidney stones until they start to move and try to exit the kidney. Some symptoms include:
Sharp, severe, cramping pain in the abdomen or side of the back
Pain can move to the groin or testicular area
Blood in the urine
Chills
Fever
Nausea
Vomiting
What treatments are available?
Because of the pain caused by kidney stones, many people find that they need pain relief. Many describe it as the worst pain they've ever felt.
If you have a kidney stone, you will be encouraged to drink a lot of water if you don't have a medical condition that limits the amount you may have. The extra fluid is to help wash the stone through your urinary system.
If the stone doesn't pass within a reasonable amount of time, your doctor may recommend extracorporeal shock wave lithotripsy (ESWL).  Shock waves are sent through to the stone to break them down into smaller pieces that can be passed. Sometimes, surgery may be needed.
The stone should be removed because of the high risk of infection, which could – in turn – lead to sepsis.
Can kidney stones be prevented?
While not all kidney stones can be prevented, there are ways to lower your risk of developing one or developing another one. The first and foremost way would be to drink enough fluids to ensure your urinary system gets flushed out well.
Your doctor could recommend that you avoid certain types of foods, but that is an individual call. For certain types of stones, sometimes medications are prescribed to help reduce the risk as well.
If you suspect sepsis, call 9-1-1 or go to a hospital and tell your medical professional, "I AM CONCERNED ABOUT SEPSIS." 
The information here is also available as a Sepsis Information Guide, which is a downloadable format for easier printing.
Would you like to share your story about sepsis or read about others who have had sepsis? Please visit Faces of Sepsis, where you will find hundreds of stories from survivors and tributes to those who died from sepsis.
Updated April 19, 2021.