Zachary Yancheck
One beautiful, sunny day while miniature golfing with the family, my son Zachary started throwing up right out of the blue. We took him to the doctors the next day and because he was having pain in his back a
n x-ray was done. He was also throwing up and had a high fever. We were told everything is fine, it's viral let him ride it out.
Three days later after calling the doctor many times, my son was getting worse. He was seen again. The only reason he saw him again was because the doctor was tired of me calling. This time nothing was done, nothing not even a temperature taken. Doctor again said, "it's viral. Let him ride it out." My son also saw a surgeon I called the same day. Did the same thing, nothing. Put my son in a back brace for the pain. Thinking I was doing the right thing and trusting our doctors my son went like this for 7 days. I finally was so disgusted I took my son to the ER. And again there the ER doctor was awful to us. I pleaded with him to please just do blood work
. When the blood work came back the ER doctor was kissing our butt big time. He came in the room and told us my son would have to be rushed to Childrens Hospital in Danville. It was 2:30 in the morning and we lived over an hour away.
When we arrived at Janet Weis Childrens Hospital in Danville, we were informed our son might not make it at just 13 years old. That "its viral let him ride it out" was actually an epidural abscess at L5 that was already
deteriorating his back bone down and he was septic. My son endured 2 days of 7-hour back surgeries and had to have many medications constantly adjusted. After the surgeries we were then told my son may never walk again.
Thanks to those AMAZING doctors my son walked out of that hospital on his own 8 days later, just a day before his 14th birthday. He still had 6 more weeks at home of IV meds and was in a back brace for over 3 months. Just a month after having his back brace removed he was rock climbing on a cruise ship. Today he is a 100% healthy, 6ft 17-year-old. While my son was in the hospital, we heard a child the same age with the same thing had passed away just the week before. The doctors think all this happened from a scratch and at sometime around the same time, he possibly banged his back and the infection went to that weak spot. We could have lost our son and all it took was a simple blood test to diagnose. My son wanted to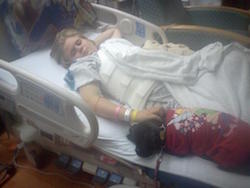 do something to give back all on his own she he started to grow his hair from the time he left the hospital until last January. He donated 12 inches to Locks of Love.
Source: Lisa Yancheck (Zachary's mother)