Anything You're Looking For?
Sepsis is the body's overwhelming and life-threatening response to infection which can lead to tissue damage, organ failure, and death. Learn more about the symptoms of sepsis, which kills 258,000 Americans each year.
Medical professionals have been debating the exact definition of sepsis for decades. However, one thing they can agree upon is the origin of the disease. The word sepsis comes from the Greek meaning "decay" or "to putrefy." In medical terms, sepsis is defined as either "the presence of pathogenic organisms or their toxins in the blood and tissues" or "the poisoned condition resulting from the presence of pathogens or their toxins as in septicemia."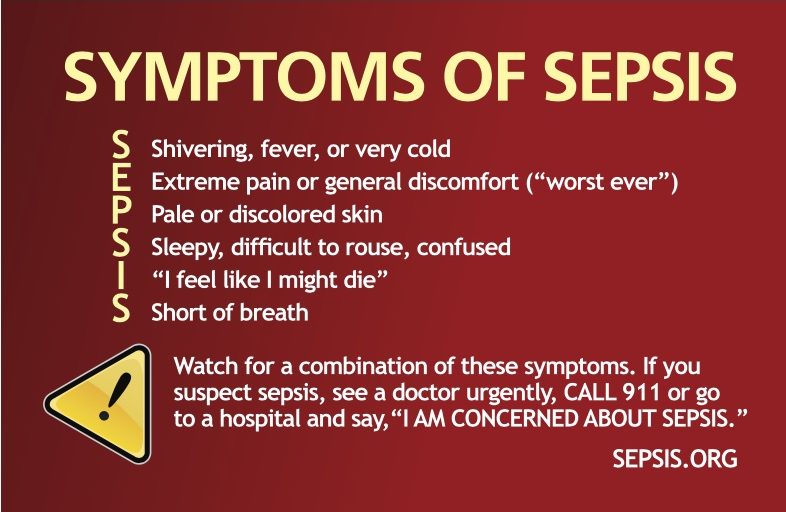 Patients are given a diagnosis of sepsis when they develop clinical signs of infections or systemic inflammation; sepsis is not diagnosed based on the location of the infection or by the name of the causative microbe. Physicians draw from a list of signs and symptoms in order to make a diagnosis of sepsis, including abnormalities of body temperature, heart rate, respiratory rate, and white blood cell count. Sepsis may be diagnosed in a 72-year-old man with pneumonia, fever, and a high white blood cell count, and in a 3-month-old with appendicitis, low body temperature, and a low white blood cell count. (Tests for Sepsis)
Sepsis is defined as severe when these findings occur in association with signs of organ dysfunction, such as hypoxemia, oliguria, lactic acidosis, elevated liver enzymes, and altered cerebral function. Septic shock is diagnosed when the blood pressure drops to dangerous levels. Nearly all victims of severe sepsis require treatment in an intensive care unit for several days or weeks. Sepsis is caused by an infection, usually associated with an illness (like diabetes or cancer), or an injury (like a cut or a scrape). It can, however, also be caused by an infection following a routine surgery or procedure.
Sepsis can rage in response to incidents as seemingly benign as a playground scrape or a nicked cuticle from the beauty parlor.
Sepsis has been named as the most expensive in-patient cost in American hospitals in 2014 at nearly $24 billion each year. Forty percent of patients diagnosed with severe sepsis do not survive. Until a cure for sepsis is found, early detection is the surest hope for survival. Up to 50% of survivors suffer from post-sepsis syndrome.