Anything You're Looking For?


Sepsis Alliance is hosting its 6th annual Sepsis Heroes, the organization's annual fundraising gala, on September 14, 2017 in New York City. The event, timed to coincide with Sepsis Awareness Month, will honor the 2017 Sepsis Heroes who have made a significant contribution to sepsis awareness and education among both the general public and healthcare professionals. Visit the event site to purchase tickets or a program ad, or to support the event by making a donation.
Meet the 2017 Sepsis Heroes honorees:
The Sepsis Heroes gala will feature a presentation of the Erin Kay Flatley Spirit Award. Given in memory of Erin Kay Flatley, a 23-year-old aspiring teacher who died unnecessarily of sepsis after a routine surgery, this year's Spirit Award recipients are Liz and Tony Galbo who tragically lost their five-year-old daughter, Gabby, to sepsis in 2012. The couple have since raised awareness in their home state of Illinois to such a level that Gabby's Law was enacted, requiring hospitals to implement sepsis protocols to improve early detection and treatment of sepsis.
Sepsis Heroes 2016 Highlight Video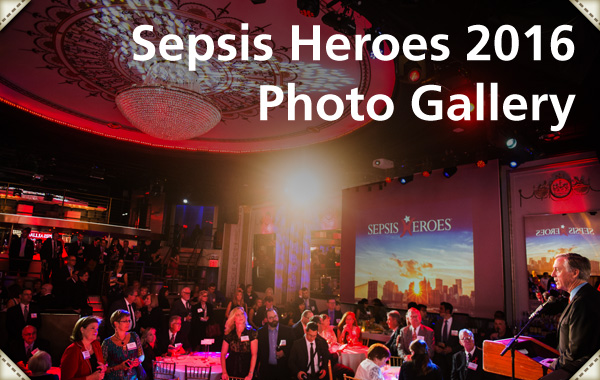 Sepsis Heroes Sponsors
The Sepsis Heroes event could not be possible without the generous support of its sponsors. Companies and organizations interested in supporting the Sepsis Heroes event as a sponsor should email sponsors@sepsisheroes.org or call us at (619) 232-0300. Program ad pages are also available for purchase.
View Sepsis Heroes Sponsorship Opportunities (Adobe PDF)
Thank you to our sponsors