Anything You're Looking For?
Caring for wounds
Every cut, scrape, or break in the skin can allow bacteria enter your body that could cause an infection. For this reason, it's essential that all wounds be cleaned as quickly as possible and be kept clean. They should also be monitored for signs of an infection.
Cleaning open wounds:
Always wash your hands before touching an open wound. If possible, wear clean disposable gloves.
If the wound is deep, gaping, or has jagged edges and can't be closed easily, it may need stitches. See your healthcare provider as soon as possible.
If the wound does not appear to need stitches, rinse it and the surrounding area with clean (not soapy) water. Gently running water over the wound can help remove any dirt or debris that may be inside. If you believe that there is still debris in the wound, this should be checked by a healthcare provider.
If desired, apply an antibiotic cream or ointment.
Cover the wound to protect it from dirt if necessary.
Watch for signs of infection: redness around the wound, skin around the wound warm to touch, increased pain, and/or discharge from the wound. Consult your physician or nurse practitioner if you suspect you may have an infection.
Blisters: If you have a blister, do not pop it or break it. The blister is a protective barrier and breaking it introduces an opening in your skin. If the blister does break, keep the area clean and monitor for signs of infection.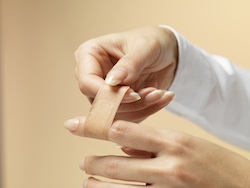 Treating Infections
Bacterial infections
Bacteria can cause infections in many parts of the body, such as a cut or bug bite on your arm, your kidneys or bladder, even your lungs (pneumonia). If you have been diagnosed with a bacterial infection, you will likely be prescribed antibiotics for treatment. Antibiotics are medications that kill bacteria or stop them from reproducing.
Some antibiotics work against several types of bacteria, while others are for specific bacteria only. Partly because of overuse and misuse of these medications, some bacteria are becoming resistant to certain antibiotics. This is making it harder to treat infections. For this reason, it is essential that people take antibiotics only when necessary and exactly as prescribed.
What to do when you are prescribed antibiotics
Follow the instructions regarding how the medication should be taken – with or without food, before or after meals.
Take it on time (example: once a day, every six hours)
Finish the full course (7 days, 10 days, etc.), even if you feel better sooner. The symptoms will disappear before the bacteria have been completely eliminated.
Store the antibiotics as directed to preserve its strength.
What not to do with antibiotics
Do not ask your physician or nurse practitioner for a prescription for an infection not caused by bacteria. Antibiotics do not work on viruses, such as colds or the flu, or other illnesses not caused by bacteria.
Do not take someone else's antibiotics, even if you do have a bacterial infection. It may not be the correct type or dosage, or it may have expired. It can be dangerous to take expired antibiotics.
Viral infections
Most viral infections run their course without treatment, but some viral infections may be treated with anti-viral medications. (Sepsis and Viral Infections) If you are ill and don't seem to be getting better, are getting worse or are developing new symptoms, are having difficulty breathing, or are concerned, please consult your healthcare professional. Sometimes, medications may be prescribed for the symptoms caused by the virus.
Fungal and parasitic infections
Infections caused by fungi or parasites must be treated with specific medications that will eliminate the cause. (Sepsis and Fungal Infections)