Anything You're Looking For?
Sepsis should be treated as a medical emergency. In other words, sepsis should be treated as quickly and efficiently as possible as soon as it has been identified. This means rapid administration of antibiotics and fluids. A 2006 study showed that the risk of death from sepsis increases by 7.6% with every hour that passes before treatment begins. (Critical Care Medicine)
Testing for Sepsis
There is no definite test that diagnoses sepsis, but certain tests can help a doctor make the diagnosis.
Tests for infections
Tests for infections include testing urine, blood, samples such as swabs from a wound or your throat, for example. If an infection is present, your doctor may determine from your symptoms (fever, rapid heart rate, etc.), that you have sepsis.
Specific tests may include blood tests for white blood cells, procalcitonin (PCT), c reactive protein (CRP), and lactate. Other blood tests may look at how specific organs are working, such as your kidneys and liver.
X-rays and other imaging tests
Not all infections can be found through swabs or samples, so you may have to undergo x-rays, ultrasound, computed tomography (CT scans), or magnetic resonance imaging (MRI), so your doctor can view your organs and body tissues. Examples would be to look for signs of appendicitis, bowel inflammation or perforation, or internal abscesses.
Treatment:
Antibiotics
Antibiotics (usually more than one type) are prescribed by the physician based on the type of infection that is causing the illness. The first antibiotics are usually broad-spectrum, which means the antibiotic is effective against several of the more common bacteria. The antibiotics are given by intravenous in order to ensure they get into the blood system quickly and efficiently.
IV Fluids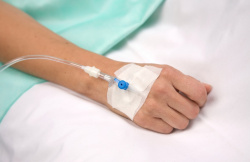 Antibiotics alone won't treat sepsis; fluids are also needed. The body needs extra fluids to help keep the blood pressure from dropping dangerously low, throwing the patient into shock. Giving the fluids by IV allows the health care staff to track how much fluid is being administered and to control the type of fluid the patient is getting.
Ensuring the body has enough fluids helps the organs do their work and may reduce damage from sepsis.
While there are several types of IV fluids, some are standard in treating sepsis. Normal saline is one commonly given fluid. It is a crystalloid fluid. These are fluids that contain minerals, such as sodium, and are water soluble, or dissolve in water. These add fluid to the blood system.
Colloids, another type of fluid that is used, are thicker. For example, blood is a colloid. Colloids that may be given by IV include albumin and dextran. Colloids do not dissolve as quickly as crystalloids. More crystalloid fluid is needed than colloid fluid to achieve the same goal of boosting body fluid volume, but crystalloids are less expensive.
Medical Disclaimer
The information on or available through this site is intended for educational purposes only. Sepsis Alliance does not represent or guarantee that information on or available through this site is applicable to any specific patient's care or treatment. The educational content on or available through this site does not constitute medical advice from a physician and is not to be used as a substitute for treatment or advice from a practicing physician or other healthcare provider. Sepsis Alliance recommends users consult their physician or healthcare provider regarding any questions about whether the information on or available through this site might apply to their individual treatment or care.