Anything You're Looking For?
Healthcare Facilities and Professionals Help Mark Sepsis Awareness Month
Sepsis Awareness Month and World Sepsis Day (September 13) are great opportunities to put the focus on sepsis – to ensure that sepsis is the word of the month. Doctor and nurse practitioner offices, clinics, hospitals, and other healthcare facilities are encouraged to take an extra step to spread sepsis awareness among their clients and their employees.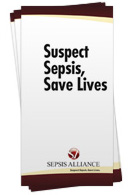 Sepsis Alliance has produced an easy-to-understand, tri-fold brochure that lists basic sepsis information and what people can watch for. The same brochure is now also available in Spanish. A starter kit that includes 10 brochures, 5 symptoms cards, 1 magnet, and 1 awareness band can be ordered for $25. (One starter kit per facility please.) Visit the SA store to order.
Healthcare professionals can:
Set up tables or booths in their facility with sepsis information for both visitors and staff
Download Sepsis Information Guides to distribute throughout the hospital
Show the Sepsis Alliance videos (Sepsis: Emergency, also available with Spanish subtitles, and Faces of Sepsis)
Distribute sepsis brochures (available in both English and in Spanish) – order them from the SA store

Share Faces of Sepsis stories among each other
Promote Sepsis Awareness Month in employee communications, newsletters, and intranet
Display the Nurses Know Sepsis magnets in a prominent place
Encourage your colleagues to sign up for the Sepsis Alliance newsletter, like the Sepsis Alliance Facebook page, follow Sepsis Alliance on Twitter, and join the Sepsis Alliance LinkedIn group
Participate in the Sepsis Alliance Photo Challenge – post on Instagram or Twitter a photo of you, your colleagues, or your facility raising sepsis awareness, marking it with #SAM2016. See the 2015 photo gallery for ideas
Some facilities that have requested sepsis awareness materials include:
Aventura Hospital and Medical Center – Aventura, FL
Baptist Hospital of Miami – Miami, FL
Brandon Regional Hospital – Brandon, FL
Carilion Roanoke Memorial Hospital – Roanoke, VA
Citizens Memorial Hospital – Bolivar, MO
Coliseum Northside Hospital – Macon, GA
Excela Health- PA
Florida Hospital of North Pinellas – Tarpon Springs, FL
HCA Healthcare Hospitals
Mercy Medical Center – Baltimore, MD
Missouri Baptist Medical Center – St. Louis, MO
MultiCare Health System – WA
Northwest Medical Center – Margate, FL
Plaza Medical Center of Fort Worth – Forth Worth, TX
Sentara – VA & NC
Shore Medical Center – Somers Point, NJ
South Georgia Medical Center – Valdosta, GA
Springfield Regional Medical Center – Springfield, OH
Stanford Health Care – Stanford, CA
St. Joseph Mercy Oakland – Pontiac, MI
The Valley Hospital – Ridgewood, NJ
If your facility should be on this list or you have ideas for other awareness activities, please let us know (info@sepsis.org).
Thank you for helping make Sepsis Awareness Month a success.