Anything You're Looking For?
How Can I Help With Sepsis Awareness Month?
Social Media
Are you on Twitter? You can add a "Twibbon" to your profile photo that shows all your followers that you support Sepsis Alliance. Click here to see how to add the Twibbon to your account. Or you can change your profile photo to the SA logo or the red-and-black ribbon. You can follow us on Twitter (@SepsisAlliance) as well. The more people we reach, the more people will learn about sepsis. Don't forget the #SAM2016 hashtag.
If you are on Facebook, you can use the SA logo or the red-and-black ribbon as your profile picture for a few days or the whole month. We also have a Facebook page but you don't have to be on FB to access it! We know that many people don't belong to Facebook so our page is open for anyone and everyone to see. If you do belong to FB and if you haven't already, you can "like" us  and encourage your FB friends to do the same.
Photo Challenge
How about joining the Sepsis Awareness Month Photo Challenge? Take a photo of you or someone else wearing or using a sepsis awareness product. Post it to Facebook, Instagram, or Twitter. Don't forget to use #SAM2017. The product could be something from the SA store, our Cafe Press store or a product you've made yourself that helps draw attention to sepsis. Your photo may be used on the SA site!
Ribbons
For our first Sepsis Awareness Month, one of our Facebook followers designed a black-and-red ribbon to signify sepsis and she handed them out at her church. That was one effort promoted by one person and since then, many have used her idea and made their own. In 2013, a mother in the Bahamas who lost her infant daughter to sepsis was using these ribbons, along with brochures, to raise awareness in her country. To order ribbons, please visit the SA store.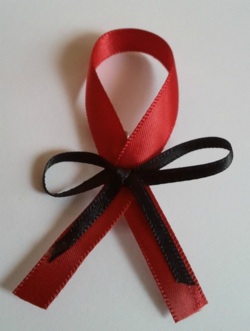 Brochures and Symptoms Cards
We also have sepsis information brochures and sepsis symptoms cards available to anyone for distribution in the community. The brochure is a tri-fold pamphlet that lists basic information on sepsis and what to watch for. We also now have the same brochure available in Spanish. The sepsis symptoms cards fit in your wallet or purse and are a reminder of the symptoms of sepsis.  To order brochures and symptoms cards, visit the SA store.
Here are some other suggestions:
Do you have any ideas you don't see here? Let us know about it at info@sepsis.org. Thanks!