Anything You're Looking For?
Since 2015, Sepsis Alliance has honored and celebrated nurses throughout the month of May in conjunction with National Nurses Week (May 6-12, 2017). We invite you to join us and nominate a nurse who you feel went above and beyond to help patients with sepsis and increase sepsis awareness and education in their facilities as well as the community. When you nominate a nurse below, they'll receive a Nurses Know Sepsis pin and personalized letter letting them know just how appreciated they are.
Do you know a special nurse who you would like to be honored for his or her work with sepsis awareness, education, or management? Nominate them here (address is required for all nominations):
Need inspiration for your nomination? Here are some exceptional nurses who have been nominated and recognized in the past and shared their experiences working in sepsis care and education:
NTI 2016
We look forward to participating at the National Teaching Institute (NTI) & Critical Care Exposition (NTI) every year and this year is no exception! Hosted by the American Association of Critical-Care Nurses (ACCN), we will have the opportunity to connect with over 6,000 nurses and share sepsis resources for both staff and patient education to raise awareness and help save lives from sepsis. Attending the conference? Visit us at booth #4150!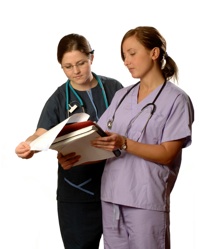 Resources
As front-line healthcare workers, nurses are well placed to be the first ones to suspect sepsis. Sepsis Alliance has gathered some resources for nurses and will continue to add information as it becomes available.
Do you have any suggestions to share with your colleagues? If so, send them to info@sepsisalliance.org and we'll share them in the Nurses' Station section.