Anything You're Looking For?
Starting in 2015, every year during Nurses Month (May), Sepsis Alliance puts out a call for people to nominate nurses who they felt went above and beyond to help patients with sepsis, and to increase sepsis awareness and education in their facilities and in the community. The response to the #NursesKnowSepsis campaign in 2015 was wonderful and we are happy to be continuing this program in 2016. So many nurses are making a big difference and over 100 nurses have already received a limited edition Nurses Know Sepsis pin.
Some of the nurses who were nominated in the past spoke to SA about their experiences working in sepsis care and education:
2016
2015
Do you know a special nurse who you would like to be honored for his or her work with sepsis awareness, education, or management?
NTI 2016
We had a blast at NTI 2016 (National Teaching Institute (NTI) & Critical Care Exposition), which was held this year in New Orleans, Louisana. We saw so many nurses who wanted to learn more about Sepsis Alliance and post sepsis syndrome (PSS).
They asked many questions, picked up brochures, pens, and other give-aways, all in the hope of helping spread sepsis awareness among their patients, their families, and other healthcare professionals.
This is the third year Sepsis Alliance has had a booth at NTI. We feel it's a great way to meet with critical care nurses. While these nurses are all too familiar with sepsis, when they learn about Sepsis Alliance, the nurses find out about a new resource – one that they can use themselves or share with their patients and families, so they have a place to go to learn more when they are ready to do so.
We can't wait for NTI 2017!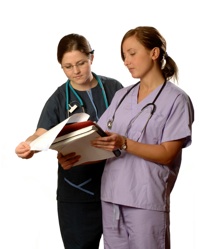 Resources
As front-line healthcare workers, nurses are well placed to be the first ones to suspect sepsis. Sepsis Alliance has gathered some resources for nurses and will continue to add information as it becomes available.
Do you have any suggestions to share with your colleagues? If so, send them toinfo@sepsisalliance.org and we'll share them in the Nurses' Station section.