Anything You're Looking For?
Sepsis – it's a condition that nurses know, but may not always recognize quickly enough to ensure early intervention. The survival rate for patients with severe sepsis drops by 8% every hour they do not receive timely treatment, so early assessment and appropriate treatment is vital. To save lives and minimize long-term complications that can affect sepsis survivors, all nurses, whether they work in the community or in a healthcare facility, must be able to identify who is at risk of developing sepsis, and know the clinical manifestations and recommended treatment.
Sepsis Alliance has gathered resources to help nurses become more familiar with sepsis. These include:
Are you a school nurse? Please visit Sepsis and School Nurses to learn more about how important your role is in reducing the risk of sepsis and working with children who are sepsis survivors.
Sepsis Alliance has also created a nursing education tool, Nurses Suspect Sepsis. The tool debuted at the 2017 National Teaching Institute & Critical Care Exposition and is free and available to the public. Hospitals and healthcare systems are encouraged to share this tool at their next continuing education session or staff meeting to refresh staff on early identification of sepsis.
Visit Sepsis Alliance at NTI 2018 at booth #3214.
It is known that providing rapid care to patients with sepsis with immediate antibiotics and fluids as part of an organized approach has the potential to save thousands of lives a year. This 20-minute video was created using the expertise of physicians, nurses, and healthcare professionals from a variety of backgrounds around the country. It provides an overview of the definition and symptoms of sepsis along with consequences as sepsis progresses. By the end of the video, viewers will be able to recognize early warning signs of sepsis and describe interventions and therapies to treat it.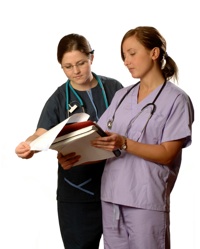 How can you help spread sepsis awareness?
Do you have any suggestions to share with your colleagues? If so, send them to info@sepsisalliance.org and we'll share them in the Nurses' Station section.