Anything You're Looking For?
New Nurse Education Tool
Sepsis Alliance is pleased to announce a new nursing education tool, Nurses Suspect Sepsis, which debuted at the 2017 National Teaching Institute & Critical Care Exposition. This education tool is free and available to the public – we encourage hospitals and healthcare systems to share it at the next continuing education or staff meeting to refresh staff on early identification of sepsis.
It is known that providing rapid care to patients with sepsis with immediate antibiotics and fluids as part of an organized approach has the potential to save thousands of lives a year. This 20-minute video was created using the expertise of physicians, nurses, and healthcare professionals from a variety of backgrounds around the country. It provides an overview of the definition and symptoms of sepsis along with consequences as sepsis progresses. By the end of the video, viewers will be able to recognize early warning signs of sepsis and describe interventions and therapies to treat it.
National Nurses Week
Sepsis Alliance celebrated National Nurses Week by inviting members of the public to nominate a nurse who they felt went above and beyond to help patients with sepsis and increase sepsis awareness and education in their facilities as well as the community.
Read the below stories of exceptional nurses who have been nominated and recognized in the past and shared their experiences working in sepsis care and education:
NTI 2017
We look forward to participating at the National Teaching Institute (NTI) & Critical Care Exposition (NTI) every year and this year is no exception! Hosted by the American Association of Critical-Care Nurses (ACCN), we will have the opportunity to connect with over 6,000 nurses and share sepsis resources for both staff and patient education to raise awareness and help save lives from sepsis. Attending the conference? Visit us at booth #4150!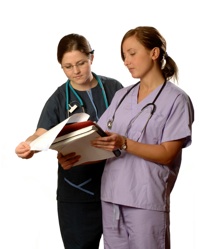 Resources
As front-line healthcare workers, nurses are well placed to be the first ones to suspect sepsis. Sepsis Alliance has gathered some resources for nurses and will continue to add information as it becomes available.
Do you have any suggestions to share with your colleagues? If so, send them to info@sepsisalliance.org and we'll share them in the Nurses' Station section.